Brady Hand Injury Conspiracy Theory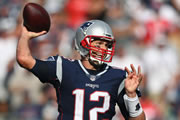 It's not the fact that the Jacksonville Jaguars have the NFL's best defense and a legitimately top-tier running game, nor evidence that the Florida team can shock better teams in huge games that has Patriots fans worried.
No, what's got New England's army of devoted followers (and not a few sports bettors) most concerned going into Sunday afternoon's 2018 AFC Championship showdown between the perennial best franchise of the last two decades and the league's scrappiest upstart in years is Tom Brady's hurt hand. That's right, the future Hall-of-Famer was reported to have "jammed his throwing hand" at practice after being "accidentally bumped into" by a team mate in the days leading up to the AFC title game, and it's got the sporting world in a bit of a minor tizzy. An x-ray of the 40-year-old's arm showed no structural damage, and, despite reports that the team itself isn't worried in the slightest, the opposite is true for fans and warry bettors – with folks in both of the oft-overlapping camps.
While it's true that most fans have taken to Twitter with self-effacing humor regarding the prospect of Brady either not being able to play on Sunday or not being able to play effectively, it's equally hard to deny the very real feeling that maybe – just maybe – this could be the Patriots' year…their year not to make it to the Big Game, that is. All the hokey jokey counter-signaling on social media (and what it reveals about the fragile psyche of fans wrapped up in the mystique of continuously successful sports teams and athletes) to the contrary, much of all this fretting is, of course, is unwarranted or entirely baseless.
Every word from official sources coming out of New England's camp is indicating that Brady will play on Sunday, but these seemingly positive reports are tempered by the slow trickle of the slightly less-sure claims that Brady "should be OK." Naturally, the sports media outlets issuing somewhat spurious sound-bite-size snippets to this effect base their so-called "reporting" on unnamed sources (allegedly "those close to" Brady himself). Whatever the case might be in actuality, the whole affairs smells a little fishy, a little manufactured, almost like master strategist Bill Belichick is up to some wily off-field gambits leading into the conference championship game against an unpredictable foe in Jacksonville.
If we're speaking frankly, it looks like Belichick is either trying to make Brady into a comeback hero who had to overcome adversity in order to barely get a win or else providing the whole team with a convenient and too-tragic-to-be-believed excuse for a close loss. What else could be the reason behind Belichick's Friday, Jan. 19, comments to the press that he's taking a "we'll see" approach to Brady's allegedly hurt (but not too badly hurt) hand? Brady was kept from the previous day's full-pads practice other than the whole-team warmup session (in which he was spotted wearing gloves on both hands, which isn't the norm), and on and on it goes.
All this conspiracy business is tiring. Maybe Belichick, Brady and the Boys have gotten in our heads the same way they've gotten into seven-straight AFC Championship games: by simply being better than everybody else in the business at all aspects of football, and that includes the mind games before, during and after the cessation of play. But bear this in mind - nobody but nobody, from the Jags' hometown fans, to football sharps around the country to the bookies themselves expected the Jacksonville to make it this far, but now that Jax is here nobody is sure what to make of the situation.
For the sports betting in Massachusetts, the handicappers haven't been as friendly as contrarian bettors would like, assigning the Patriots heavily favorable Vegas moneyline odds of -320 to take the win, with odds of -105 ATS, assuming a point-spread of 8 points in New England's favor. Though Jax has to make do with +260 on the betting board at Bovada, the leading legal offshore sports betting site for US NFL bettors, their chances improve to -115 to cover the spread. With one of the best run-heavy offenses in the league and the NFL's uncontested best defense we honestly don't expect the Jaguars to fold in this game, and the bookies aren't calling for a huge-scoring game either. The predicted total combined score of 45 ½ points and equal odds of -110 on both sides of the over/under.
Really, the hope that everyone should have going into this game is that there won't be any equivalent to the Deflate-gate controversy of several years back. What the sport's dedicated longtime fans deserve after a contentious and politically charged season (and one of middling quality games-wise) is a tightly played AFC Championship contest with none of the off-field shenanigans and gamesmanship that could be or has already seeped into the proceedings. Though we haven't seen any AFC Championship specials bets to that effect, our advice to the fans is simple: don't bet on anything when it comes to this whole "hurt hand" story and stick to enjoying the game for what it is.
Best Massachusetts Sports Betting Sites - 100% Trusted + Safe
| | | | | |
| --- | --- | --- | --- | --- |
| | | 50% Up To $250 | VISA + Wire Transfer | |
| | | 50% Up To $1,000 | VISA, Bitcoin, Cash Wire | |
| | | 50% New Member Bonus! | VISA, Bitcoin | |
| | | 100% Up To $300 | VISA, Bitcoin | |
| | | 50% Up To $1,000 | Bitcoin, Wire Xfer, VISA | |