Boston Celtics: Gruesome Injury For Gordon Hayward In Season Opener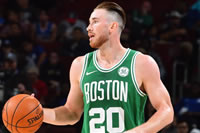 In a season opener that most fans thought would be highlighted by a homecoming and an intense rivalry, the event that occurred within the first six minutes of the game changed all that.
Five minutes, 15 seconds into the first quarter of his Celtics career, forward Gordon Hayward went down after attempting an alley-oop. Not only did Hayward go down, he suffered from what players and coaches are calling one of the most terrifying injuries they have ever seen.
"I've seen a few injuries in my career. I've had a few", stated Kyrie Irving. "Probably two of the worst ones I've been in the game watching. One was [Paul George] with USA and this one tonight. It's not a great sight to see, but you've got to pick yourself up and keep fighting."
Players called for medics as soon as Hayward took the fall, where he then had his leg stabilized before being carted off the court. Boston Coach Brad Stevens stated that Hayward dislocated his left ankle and fractured his tibia. ESPN has stated that the forward was taken to New England Baptist Hospital and will have surgery on Wednesday.
Multiple Losses For The Celtics
After losing Hayward to his injury, the Boston Celtics tried to regain focus and were successful for a period. The team trailed the Cavaliers by 18 points heading into the third quarter, but Boston pushed back up until the horn.
Kyrie Irving put up 22 points and 10 assists, while Jaylen Brown scored 25 in 40 minutes. Irving would have been able to tie up the game with a 3-pointer at the final buzzer, but it fell short to result in a 102-99 win for the Cavaliers.
What This Means For Boston
The Celtics signed a four-year, $128 million contract with Hayward to stabilize their defense and help bring their goal of winning the Eastern Conference championship to fruition. Boston still has the talent with Irving and Al Alford, plus No. 3 overall picks Jayson Tatum and Jaylen Brown. Still, there is a definite gap that needs to be filled with Hayward's absence.
Though Boston sacrificed some of its depth through trades, their conference chances are not completely blown. You can count on the Boston Celtics NBA Eastern Conference betting odds to shift for sports betting in Massachusetts, as the Washington Wizards are now poised to be a top two seed alongside the Cavaliers. This will change as the season progresses, but at this point, the Boston Celtics chances to win the 2018 NBA Finals are still favorable. Over at Bovada, the NBA Championship odds for the Celtics are +850, which is not far behind the +400 betting odds for the Cleveland Cavaliers.
Best Massachusetts Sports Betting Sites - 100% Trusted + Safe
| | | | | |
| --- | --- | --- | --- | --- |
| | | 50% Up To $250 | VISA + Wire Transfer | |
| | | 50% Up To $1,000 | VISA, Bitcoin, Cash Wire | |
| | | 50% New Member Bonus! | VISA, Bitcoin | |
| | | 100% Up To $300 | VISA, Bitcoin | |
| | | 50% Up To $1,000 | Bitcoin, Wire Xfer, VISA | |