Aaron Hernandez Suicide: NE Patriots May Have To Pay With Voided Conviction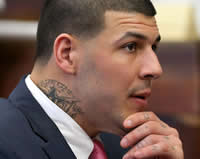 Former New England Patriots tight end Aaron Hernandez was found hanging in his cell on Wednesday morning.
According to the Massachusetts Department of Corrections, Souza Baranowski Correctional Center officers first became aware of Hernandez's suicide around 3:05 AM. Reports indicate that the fallen NFL star had attempted to barricade the door to prolong entry.
To recap, Hernandez was serving a life sentence for the 2013 murder of semi-professional athlete Odin Lloyd after being convicted in 2015. In addition to life without parole for the Lloyd murder, Hernandez was charged with double homicide in May 2014 for the deaths of Safiro Furtado and Daniel de Abreu in relation to a drive-by shooting.
What has caused the most speculation surrounding Hernandez's suicide is that less than one week ago he was acquitted of the two counts of murder in that case. His former attorney, Jose Baez, who worked to clear Hernandez of the charges is skeptical and may suspect foul play surrounding Hernandez's death. He issued the following statement Wednesday morning:
"The family and legal team is shocked and surprised at the news of Aaron's death… There were no conversations or correspondence from Aaron to his family or legal team that would have indicated anything like this was possible."
Aaron Hernandez Now Considered Innocent
While Hernandez's death may have some stunned, there are now legal implications surrounding the circumstances of his suicide. In the state of Massachusetts, there is a legal principle called "abatement ab initio" which in part translates to "from the beginning". If an individual is convicted but dies before going through all of their legal appeals, the case essentially reverts itself as if the trial and conviction never occurred. Hernandez was convicted of the murder of Odin Lloyd in April of 2015, but he had not gone through the appeal process before the time of his suicide. John Thompson, the Springfield appellate attorney assigned to the Lloyd case, stated in an interview that he would be filing the necessary paperwork to vacate the conviction upon receipt of an official death certificate.
"The trial is not the final step. Everyone is entitled to an appeal, and in particularly entitled to an appeal in a first-degree murder case," said Thompson. "He was entitled to a very careful examination of the case against him.''
There is, of course, the possibility that the controversial and dated law will be challenged by District Attorney Thomas M. Quinn III's office. It was Quinn's office that initially secured the 1st-degree murder conviction against Hernandez back in 2015.
Will The Pats Have To Pay Hernandez?
As a result of the conviction of the former Patriots player being overturned, there are may be monetary repercussions for the Patriots. When the team cut him after he was charged in 2013 for the murder of Odin Lloyd, they also withheld $3.25M of Hernandez's signing bonus and held onto $2.5M of his salary. The Patriots were within their legal rights to do this as the player had violated his collective bargaining agreement, but without a conviction would this justification still hold up? Being that abatement ab initio may soon make Hernandez an innocent man in the Lloyd case, and he was recently acquitted of two murder counts, he legally committed no criminal wrongdoing that would have violated his contract. Hernandez's lawyers may attempt to recuperate any monies owed to his estate by revisiting his initial contract.
Best Massachusetts Sports Betting Sites - 100% Trusted + Safe
| | | | | |
| --- | --- | --- | --- | --- |
| | | 50% Up To $250 | VISA + Wire Transfer | |
| | | 50% Up To $1,000 | VISA, Bitcoin, Cash Wire | |
| | | 50% New Member Bonus! | VISA, Bitcoin | |
| | | 100% Up To $300 | VISA, Bitcoin | |
| | | 50% Up To $1,000 | Bitcoin, Wire Xfer, VISA | |